[The following post oringally posted on HuffingtonPost.com]
If you missed Part I, make sure to read it here first. To read the post below first, would be like experiencing Labor Day weekend before you've done the Fourth of July.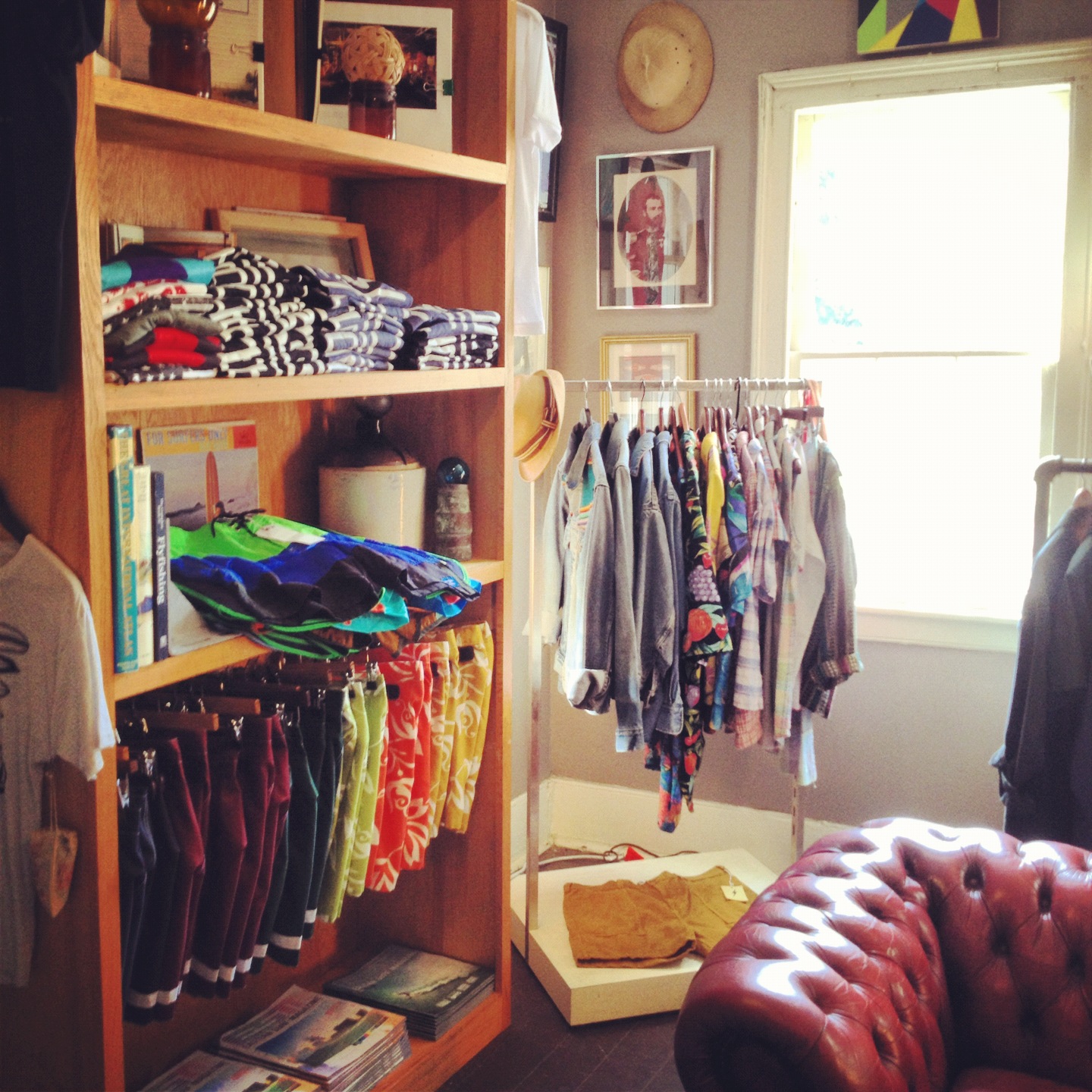 Rogue Wave combines owner Rhett Boyd's eye for art, menswear and surfing. 
Rogue Wave & Indigo and Cotton -- Charleston
Rogue Wave owner Rhett Lightfoot Boyd, Jr., got his start in Charleston after spending several years in Costa Rica with his wife where he, "surfed his brains out." Upon moving to Charleston, Boyd worked for a local surf company before breaking Rogue Wave into the town with a series of pop-up shops, including a pop-up in Billy Reid's shop, before investing in a brick-and-mortar location. Today, the surf-themed location is a place where you'll find some of the top emerging American brands in Imogene + Willie and Apolis Denim alongside Yellow Rat's "Surfing Ruined My Life" T-shirt, which always seems to attract attention to whomever wears it, surfer or not.
Boyd says he's never paid for advertising or developed any marketing plans for the shop; instead he relies on word of mouth. "If we treat people right... if our vision is clear... people will tell their friends," he said. Sure enough, it was Larry Luk, co-founder of We Are The Process, and KJ Kearney, the creative behindH1gher Learning, who put me up on Rogue Wave. I guess I just saved Boyd some money from Facebook ads.
Just down the block you'll find Indigo and Cotton, the most well rounded men's boutique in town, with items from Mark McNairy, Raleigh Denim, The Hill-side, Levi's Vintage and Jack Spade. Owner Brett Carron, like Boyd, was an out-of-towner who moved to Charleston with his wife -- Carron worked in the art industry in New York -- and saw a lack of independent menswear shops in the town. "I thought I could bring something fresh to the scene... a lot of new folks are moving to Charleston and bringing something from where they came from. Fresh eyes, creativity and not afraid to take chances," said Carron. Sounds like the making of a great menswear shop to me. Make sure to check out upstart brands Jed & Marne, makers of Guatemalan hand-woven shorts, and Topo Designs, which makes environmentally sound and heavy-duty leather bags.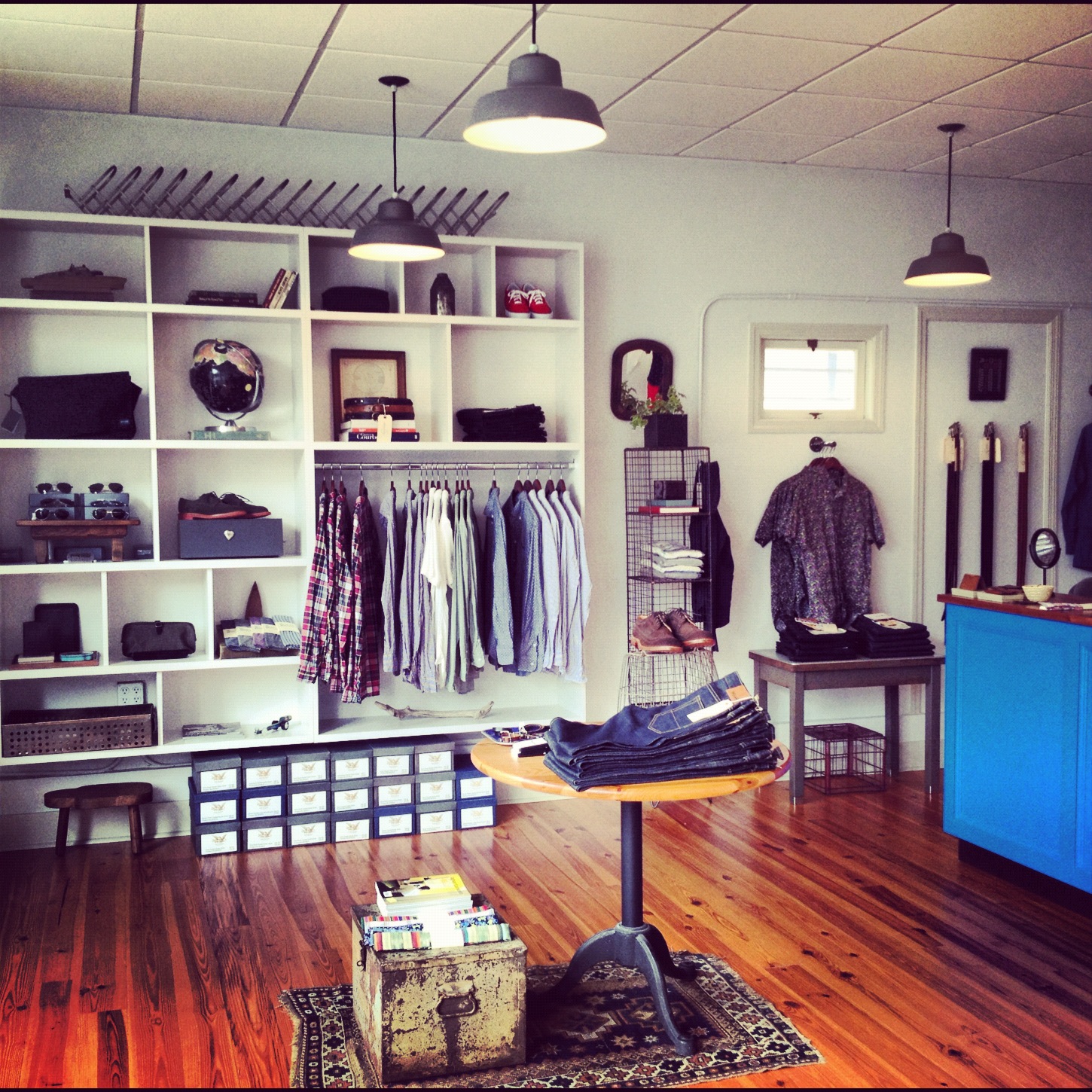 Indigo and Cotton pays homage to Charleston's past, and hints at its future.
Standard ATL & Sid Mashburn -- Atlanta
Another Southern shopping hub, Atlanta, is home to one of the nation's best minds in the sneaker industry in Standard ATL owner Farshad Arshid. His shop has been profiled in just about every possible publication of merit when it comes to sneakers and street wear due to Arshid's longstanding connections to the heavyweights (Stussy, ALIFE) in the industry. Case in point, Arshid has teamed with G-Star Raw to expand the brand's US imprint, and G-Star just opened next door to Standard in one of America's best shopping destinations, the Lenox Avenue Mall.
"Standard are one of G-Star's oldest partners in the U.S., and we have built an extremely positive relationship which has led us to this point. G-Star and Standard now have an agreed growth strategy in place and we're excited to watch this unfold in the short term future," says Stuart Millar, CEO North America.
Needless to say, when you have the CEO of a major, cool-kid brand talking you up like this, you have to believe it's a must-see shop for the street style savvy guys around the world.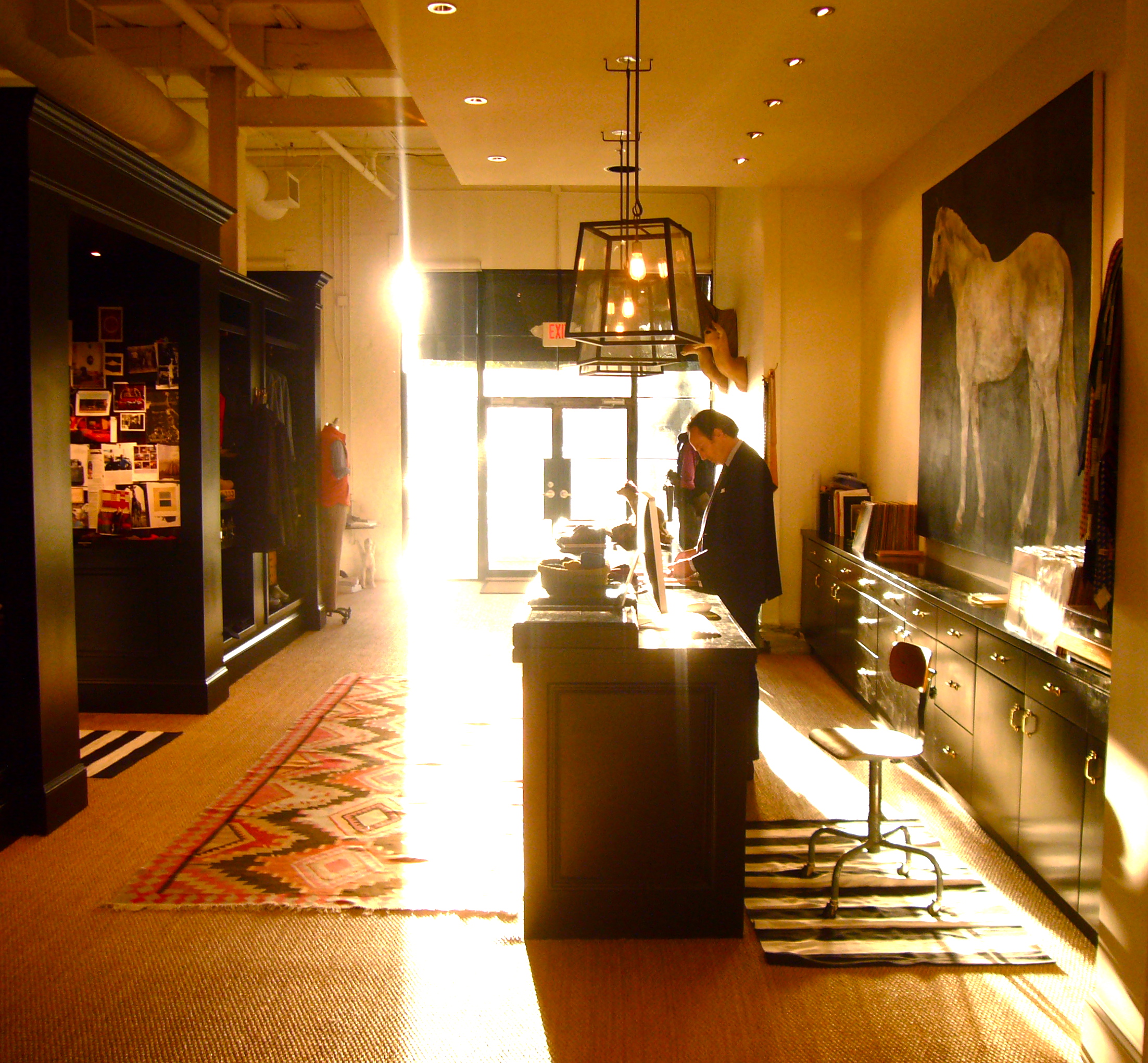 Photo Courtesy of Sid Mashburn.
Atlanta isn't just a street wear capital, though, as evidenced by the prep style promoted at Sid Mashburn's elegant Atlanta shop. Mashburn, a Mississippi native, got his start in local garment houses before spending time designing for J. Crew, Ralph Lauren and Lands End. To say Mashburn understands men's design, fitting and tailoring would be a gross understatement. He's built a place that gets rave reviews as a hub of Southern sartorial delight and expert suiting, but don't let the Southern tag full you. Mashburn has lived all over the country and traveled in Europe extensively giving this shop a much broader perspective. All the better, given the real focus of the boutique according to Mashburn.
"We have a pretty cool shop, but what we really love doing is sowing confidence in guys and girls -- we have a women's shop next door - -who are looking for some help, sartorial and otherwise... we get young, earnest, nervous men and old, wiser, nervous men," said Mashburn.
It's not just Mashburn behind the scenes though, as he has a team of gentleman handling shirting and shoes, sportswear and tailoring, accessory selection and customer service. This is the kind of shop that single women would want to go in to find their future husbands. It's worth noting that Mashburn's wife, Ann, runs the aforementioned women's shop, having spent time styling at J.Crew as well as working at both Vogue and Glamour in previous years. The two have five daughters, so perhaps father Mashburn is making sure those prospective suitors are well suited, pun intended. "We have a fantastic in-store team -- if you ask, we can almost always make it happen," concluded Mashburn.
Reserve Supply Co. & The Class Room -- Houston
Not to be overlooked in the South, Houston has significantly stepped up in the menswear division in the last year or so with the openings of Reserve Supply Co. and The Class Room.
Reserve Supply Co., is located on the up-and-coming Washington Street next door to Catalina Coffee, one of the beloved caffeine spots in Houston, and the blend of emerging locale and liquefied shoppers makes this shop a nice jolt in an otherwise mall-dominated city. What you can't find at the Galleria Mall -- long boards by Sector 9, Tellason Denim, RVCA button-downs -- can easily be found in owner Jason Bruen's year-old boutique.
Similarly, The Class Room offers up what Houston's style game has been missing with emerging brands such as Bridge & Burn, Unis, Shwood and long-time Texas favorite-turned-menswear star Hamilton 1883 shirts. And once you have the shirt and tie, you may as well take up that offer from co-owner Jon Caballero to complete your Don Draper look with a glass in hand.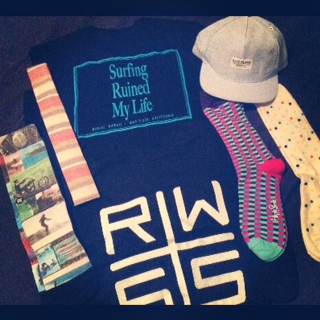 Just a few of my summer-ready purchases. Socks by Happy Socks (right) & Stance (left), hat by Quiet Life Co., shirts by Yellow Rat Company (top) and Rogue Wave (bottom) and tie by The Hill-side (purchased at Indigo and Cotton).
So to wrap this into one nice bow(tie, maybe), fellas, it's important to remember that traveling often and knowing where to shop can make all the difference in how you remember this summer. You'll remember what shirt you were wearing when you met the girl you had that fling with on the cruise or in Vegas or what shoes you had on when you walked around in New York or at that music festival or what trunks you had on at the pool at The Palms or in Miami or Brazil.
Here's a suggestion: wherever you go, tweet at me @joahspearman and I'll make sure and suggest a good spot for you.